Car Key Replacement Romford
Do you need a replacement car key in Romford?
Speedy Keys specialise in car key replacement in Romford. You do not need to have the original key for us to complete this service. Further to this, we can supply and cut keys for all makes and models of car. Based in Essex, Speedy Keys offer car key replacement in Romford and all of the surrounding areas. We cover Chelmsford, Basildon, Colchester, Brentwood, Braintree, Witham, Romford, Grays, Billericay, Southend On Sea, Havering, Thurrock, Harlow, Stansted and the surrounding areas.
Why Use Speedy Keys?
We will provide you with a hassle free replacement key and get you back on track in no time at all. Operating 24 hours a day 7 days a week, we can be there for you when you need us most. With over two decades of locksmithing experience, we have an advanced expertise of our industry. This allows us to quickly diagnose and solve any car key issues. Whether you require car key replacement, or a full key repair, we are well equipped to solve any of your car key problems.
Rapid, Affordable Car Key Replacement in Romford
If you need a car key replacement in Romford, then do not hesitate to contact us. We are not called 'Speedy Keys' for no reason! We'll deliver a brand new set of keys to you, fast and get you back on track as soon as possible, We cater to all car makes, so we are sure to be able to provide an effective car key replacement in Romford and any surrounding areas.
Truly, we understand how much of an inconvenience these situations can be. For this reason, we go the extra mile for our customers to deliver a swift, efficient and stress free service. Simply call us, and we'll aim to be with you within the hour. With all of our services, we provide a rapid turnaround time. However, the job is completed thoroughly and correctly and we never compromise on quality. Due to our expert team and top tier equipment, we complete all works to the highest standard possible. You will not be disappointed with our services.
Unlike other companies, we are honest with our customers and will give you a genuine price and response time. There are no hidden fees involved with any of our services.
Also, Speedy Keys are a trusted member of the Guild of Master Locksmiths. Above all, we pride ourselves on offering an affordable, dependable and complete service that works for you. We can supply keys faster and cheaper than main dealerships and will come at a time convenient for you! Why settle for anything less than our reliable service? For car key replacement in Romford, Speedy Keys are definitely your first choice if you need an affordable yet high quality service. Contact us with your requirements now, and find out what we can do for you.
Over the years, we have developed our skill set even further. With Speedy Key's services, you can rest assured that your car key and locks are in the hands of capable professionals. We go above and beyond for our customers, and always ensure they are left satisfied with our services. However, you don't need to Here's what some of our customers have to say about Speedy Keys:
"Needed a new key and programming and an old key blanked off. Quick service, reasonable price, would use again. Thank you." – Vikki
"Two great guys, know their stuff! Very helpful and quick to arrive when needed a key ASAP highly recommend to anybody" – Lee
"I was so worried about not having a spare key for my new car, checked online and found that Speedy Keys was the nearest auto locksmith to me. My spare keys was cut and programmed in no time and they were so professional. I'll so recommend these guys. Thank you for coming out to me." – Esther
"Cannot recommend these guys highly enough. Provided me with a set of new keys all programmed in for my van also came to my rescue when I managed to jam a lock" – Louise
Our services include, but are not limited to:
Replacement Keys
Spare Keys
Lost Or Stolen Keys
Key Repair
Van And Truck Keys
Our services are entirely bespoke, and are tailored to your individual requirements. No matter what your car key problems are, we can provide an efficient solution that works for you. If you have any questions regarding our services, then please do not hesitate to contact us. Our friendly team will be more than happy to assist you and offer professional advice.
Frequently Asked Questions
Do I need the original key? – No, you do not. Speedy Keys can supply a replacement key for all makes of cars.
How much does it cost? – The price is dependant on your individual requirements. However, all of our prices are affordable and priced competitively.
Can you come to me? – Yes. We offer a mobile service 24 hours a day. Whenever you need us, we can be there.
Contact Us
Our car locksmiths offer a fast response time and fast replacement car keys. So, if you need an affordable car key replacement in Romford, then contact Speedy Keys. We can arrive to you within the hour to get you back up and running. We arrive on time, and deliver what we promise to. Contact Speedy Keys here.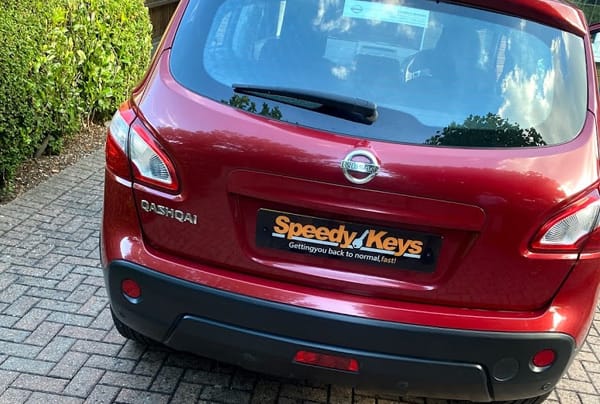 Contact Us
Areas we cover
Our services are available 24 hours a day, 7 days a week. We operate throughout Essex, including;
Chelmsford
Basildon
Colchester
Brentwood
Braintree
Witham
Romford
Grays
Billericay
Southend-on-Sea
Havering
Thurrock
Harlow
Stanstead