Have you been locked out of your van or truck?
Have your van or truck keys been lost or stolen?
Do you require a new set of keys for your van or truck?
Do you need your van or truck keys repaired?
Look no further than Speedy Keys for all your van and truck key needs. As leading specialists in the auto locksmith trade, we pride ourselves on our extensive set of skills. Having been in the industry for over 20 years, we have built ourselves a sound reputation across Essex for our excellent customer service and professionalism. Whatever your requirements may be, we will provide you with an auto locksmith service that is quite simply second to none. Whether you have been locked out of your van or require a spare key, we will provide you with our wealth of expertise and solve your problem in no time.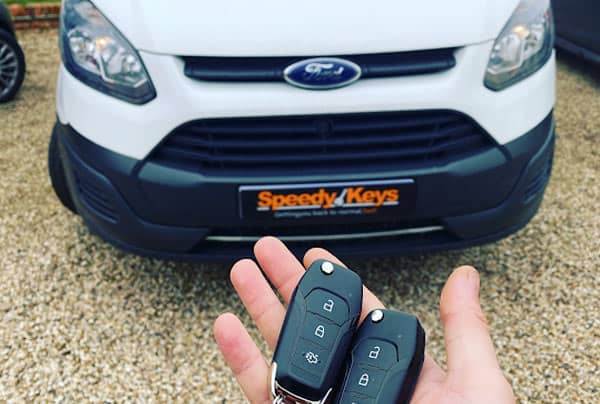 Our expert team operate in the most cost-effective and efficient manner to ensure full client satisfaction at all times. So, when looking for a van and truck key specialist, don't settle for less than the professional service that you deserve. We can gain access to your vehicle without causing any damage. Or, if you wish for us to create new keys for your van or truck, we will provide you with a hassle-free solution to your problem. Furthermore, we can also repair your current van or truck keys at a competitive rate.
Take advantage of our 24 hour emergency call-out service and we will resolve your van or truck key problems in the most timely manner. From Ford to Nissan, we can repair or replace keys for all makes and models of vans and trucks. Simply give us a call and let us know your requirements. We will take care of all the hard work to ensure your van or truck key problems are resolved.
If you find yourself locked out of your vehicle or if your key is broken, lost or stolen, this can often be a stressful time. At Speedy Keys, we understand the inconvenience that these problems can cause. For this reason, we take pride in our ability to resolve these issues in unrivalled fashion. We will always aim to reach you as quickly as possible and can guarantee you will not be disappointed with our services. Furthermore, we are extremely reliable and affordable.
Contact Us
Areas we cover
Our services are available 24 hours a day, 7 days a week. We operate throughout Essex, including;
Chelmsford
Witham
Havering
Thurrock
Harlow
Stanstead