Are you looking for a car locksmith in Romford?
Then, look no further than Speedy Keys. For car locksmith services in Romford and any surrounding areas, we are your first choice! We offer our mobile car locksmith services 24 hours a day, 7 days a week. Based in Essex, at Speedy Keys we can travel to wherever is most convenient for you. For an emergency service, we aim to be with you within the hour. You can view the list of areas we cover here.
We Can Provide Services For:
Replacement Keys
Spare Key Cutting
Lost Or Stolen Keys
Key Repair
Van And Truck Keys
With over 20 years experience in locksmithing, there are no car key problems that we have not encountered and dealt with before. No matter what your requirements are, we can develop a unique solution to fit your needs. Also, no job is too big or too small for us at Speedy Keys. Whether you need a spare key cut for your van, or your key is locked in your car and you need a car locksmith in Romford as soon as possible, we are here to help you. Here at Speedy Keys, our team is built of honest, dependable and experienced individuals that are committed to helping you get back up and running. With Speedy Keys, you can be assured that you will receive a service that is quite simply second to none.
As with any specialist service, it is vital to contact true professionals. Our team of experts at Speedy Keys have years of experience, and have developed a unique skill set as a result of this. We are well equipped to complete any auto locksmith work thoroughly and to the highest standard possible.
Above all, we pride ourselves on offering a high quality, efficient and stress free service. As we tailor our services to your individual needs, you will not be disappointed because we are guaranteed to provide a successful solution. Truly, we understand how much of an inconvenience any car key problems can be. For this reason, we strive to be with our customers within the hour, getting them back on the road in no time at all. Alternatively, if you do not require our services immediately, we can travel to you at a time that is convenient for you.
Speedy Keys are a trusted member of the Guild of Master Locksmiths. Unlike other car locksmith companies, we are honest with our customers and there are no hidden fees involved with any of our services. In addition to this, all of our services are priced affordably and they are extremely cost efficient. As a leading car locksmith in Romford, we complete all works in a timely and professional manner. Due to our services being trustworthy, reliable and affordably priced, we have built an excellent reputation within the car locksmith industry over the years. However, you don't have to just take our word for it! Our customers say -
"Very helpful indeed. I called as my van wouldn't shut, being a builder I was worried as I did not want to leave my van unattended not locked! I called these guys and the boss talked me through it on Facetime rather than coming out and charging me a call out fee! Thanks again, greatly appreciated!" - Danny
"Dave supplied a great service when I was completely stuck. And only charged what he quoted over the phone. Will definitely recommend Speedy Keys to anyone who needs keys sorted for their car." - James
"Called the gents out in Tilbury with VW Bluebird Tucana, was not sure originally if it was an immobliser or not, called them in, explained the problem, straight away they knew what to do and where to look, agreed for them to pop in and have a look and hopefully fix it, 25 min later, both keys sorted (immobilisers) car starts 1st time every time. Thanks for being honest and very supportive over the phone. Top gents, will definitely call them in the future." - Les
"Excellent!! We live in Rugby and were visiting friends in Aveley and on leaving the car wouldn't let us unlock. A google search provided us with Speedy Keys. It took 6 mins for Dave and his assistant to arrive and under one minute to unlock the car, both were polite and friendly, they found the key fob was faulty which they repaired and also remapped the car so it wouldn't occur again which was an unexpected bonus. Their charge was unbelievably cheap for such a professional service, the 2 man team went above and beyond what was required. I highly recommend making them your 1st port of call and you wont be disappointed." - Anita
24 Hour Mobile Service
Speedy Keys can travel to you at any time on any day. If you need us, we'll be there to provide a solution, quickly. So, when you require the services of a car locksmith in Romford, do not hesitate to pick up the phone to Speedy Keys. Contact us here.
Get In Touch
No matter what your requirements are, we can develop the perfect solution for you. If you need a high quality yet affordable car locksmith in Romford, then contact Speedy Keys today. If you need a car locksmith now, we will be with you as soon as possible. Simply give us a call, and find out what Speedy Keys can do for you.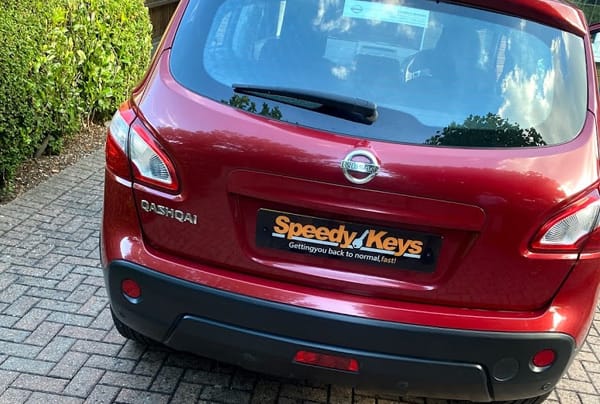 We're here.
Auto locksmithing is an extremely professional service. Do not settle for less than the reliable and efficient service that you deserve. Speedy Keys can cater to your need and offer a high standard of service at any time you need.
Our team has a wealth of experience in the auto locksmith industry. We provide clients throughout the whole of Essex with hassle-free replacement key service. With Speedy Key's services, you're guaranteed to be back on the road in no time.
Our team of professionals are here to help you 24 hours a day, 7 days a week. Call us and get in touch if you need a car locksmith in Romford, or in any other areas that we cover.
Contact Us
Areas we cover
Our services are available 24 hours a day, 7 days a week. We operate throughout Essex, including;
Chelmsford
Basildon
Colchester
Brentwood
Braintree
Witham
Romford
Grays
Billericay
Southend-on-Sea
Havering
Thurrock
Harlow
Stanstead